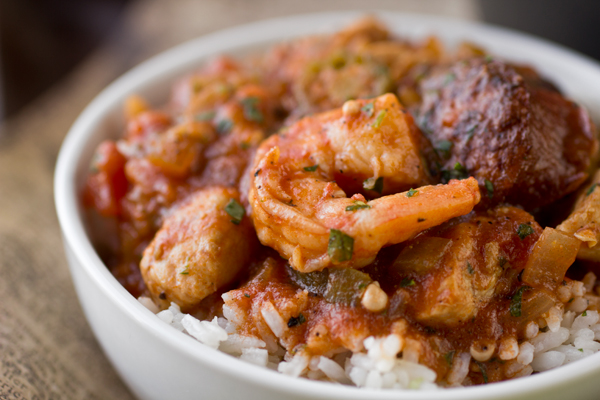 Chef Chris Townsend
6/30/22
Feeds: A LOT
Cook Time: Gonna take awhile
Ingredients
10oz Andouille Sausage
1# shrimp
1# chicken thighs
1# bacon
2qts beef stock
1 can (12oz) stewed tomatoes
2 C minced onion `
1 C minced celery
½ C minced red bell
½ C minced green bell
4 T micro-planned garlic
1 C sliced okra
1 ½ C rinsed uncooked rice (Carolina Gold)
2 T Tabasco
3 bay leaves
1 t fresh oregano
1 t fresh thyme
¼ C flour
¼ C butter
Cajun Seasoning tt
S &P tt
PROCESS:
1. In a large pan or Dutch Oven at medium high heat, add your oil and brown bacon in 1in pieces. Once browned
remove from the pan with a slotted spoon, and repeat the process with Sausage then the Chicken.
2. Drain access fat from the pan leaving just enough to sauté all your vegetables adding a pinch of salt (Onions, bell
peppers, celery, garlic) not the okra yet.
3. With the vegetables in the pot start your Roux by adding in all equal parts flour and butter stirring constantly.
The roux should develop a rich nutty smell, and brown caramel color over time, around 15-20 min (the longer you
cook your roux and the richer it gets the better your Jumbo will be.
4. Deglaze the pot with the Beef Stock and the tobacco sauce (you can also throw in some red wine or Vinegar at
this step if you wish) bring to a boil then down to a simmer stirring occasionally. Once at a simmer add the
tomato, okra, herbs, and another pinch of salt and pepper.
5. Once back at a low simmer at the uncooked rice and cover, letting sit on low for 10-15 min. Once you see the
rice start to absorb the liquid at the shrimp on top of the rice and cover again for another 5-10 min.
6. Finish with more Beef Stock if necessary, and season with S/P and Cajun seasoning check for taste
7. Garnish with Green Onion or Parsley.